Footprint Project used Solar Energy International (SEI) curriculum to train workers from Puerto Rico communities in the design and installation of a 2.5KW PV battery system, to help with Mutual Aid Disaster Relief efforts after hurricane Maria.
We talked with the Founder and Director of Footprint Project, William Heegaard to learn more about the experience and their future efforts on the island.
Can you tell us more about how this project started?
We've been supporting Mutual Aid Centers in Puerto Rico in collaboration with Mutual Aid Disaster Relief which is a small non-profit in Tampa. Since the hurricane, we have gotten some funding and volunteers to help with the installs this October. We were contact by the the Mutual Aid Center as they said that they just didn't want the system installed, they wanted training on how to operate and maintain the system. We've noticed is a big problem particularly with all the solar batteries system that had been installed since Maria. There's a lot of community groups and other facilities that received solar battery equipment, and put the lights on, but they didn't receive any long-term maintenance training for the system. They asked us to give a weekend-long awareness training while the installation was going on. So that is when I reach out to a SEI to see if there was any Spanish language curriculum that we could work with to develop a shorter version of the solar battery training. We were able to get at least 2 or 3 modules of the curriculum and cut them down with the help of Bosque Modelo.
Where was the installation and training done?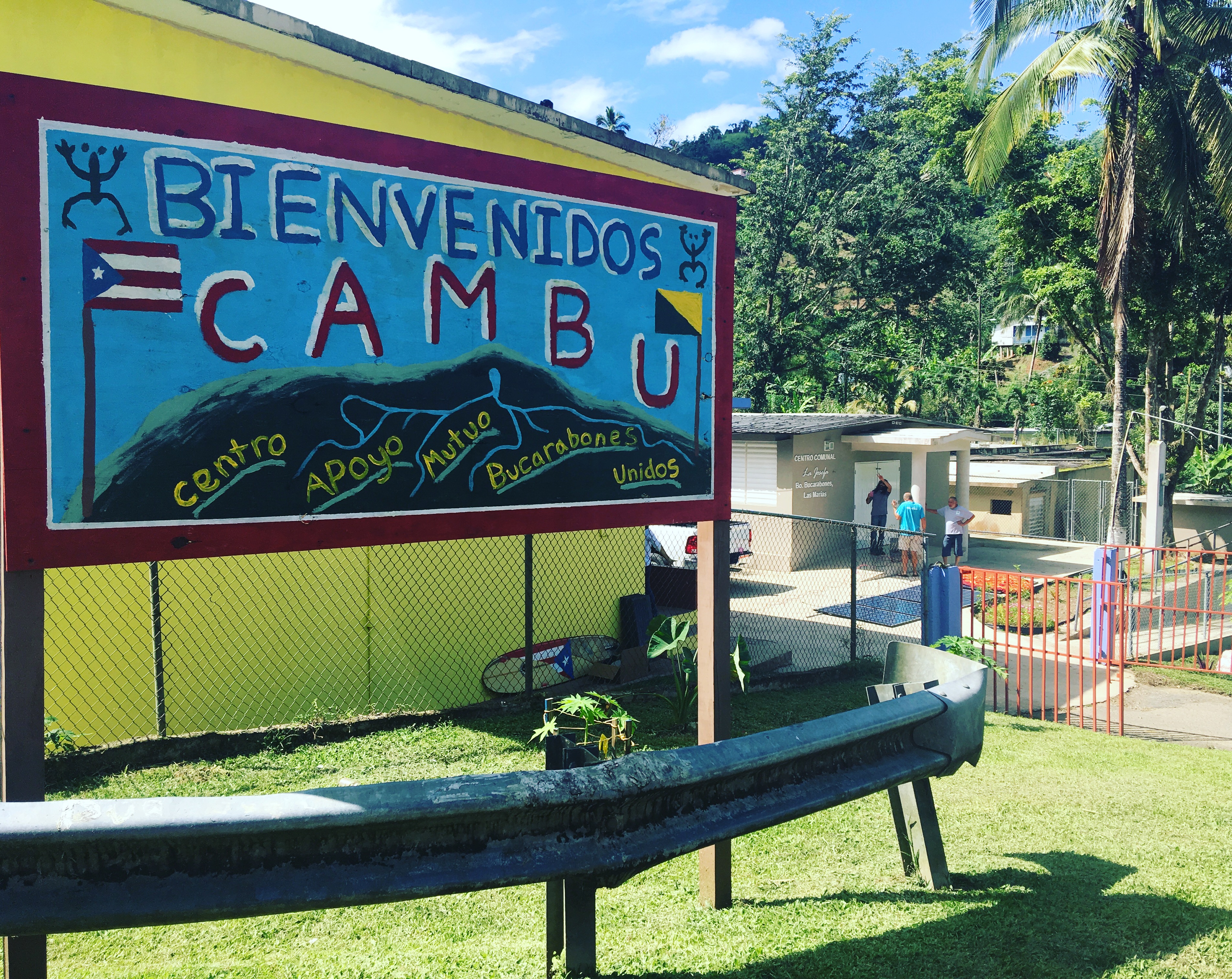 The training and the installation was done at Centro De Apoyo Mutuo in Las Marias, Puerto Rico. It's a small mountain community, on the west side of the Island, and it is located in a town called CAMBU Las Marias, which is actually a smaller town outside Las Marias call Bucarabones. So CAMBU Las Marias received the space of an oldschool that was no longer being used and abandoned for many years, and they built it into a community resilience center after Hurricane Maria. They've been doing mutual aid work out of the building for the last 2 years, so we did the installation of the solar system and the 48 hours wrapped solar battery training there.
What is a relationship with Bosque Modelo?
Bosque Modelo has the license to do Solar Energy International (SEI) curriculum training in Puerto Rico. We signed an MOU with Bosque Modelo and SEI to work on cutting down the FV203 curriculum into a more accessible version for folks that had received solar battery systems in Puerto Rico but are not installers.
What would this system provide energy for?
The center needed power for lighting, refrigeration, computers, electronics. They have a partnership with another group that is called Rock Spring UCC, which is a church out of Virginia. They are setting up a longer-term volunteer service project with CAMBU Las Marias. They are going to come back in January and retropair all the outlets, the lighting, and the current, all the interior wiring needs to be redone. We brought in the solar system, and provided outlets so they can at least have guaranteed power for their services through an extension cord. And the church is going to come back next year and do all the interior rewire.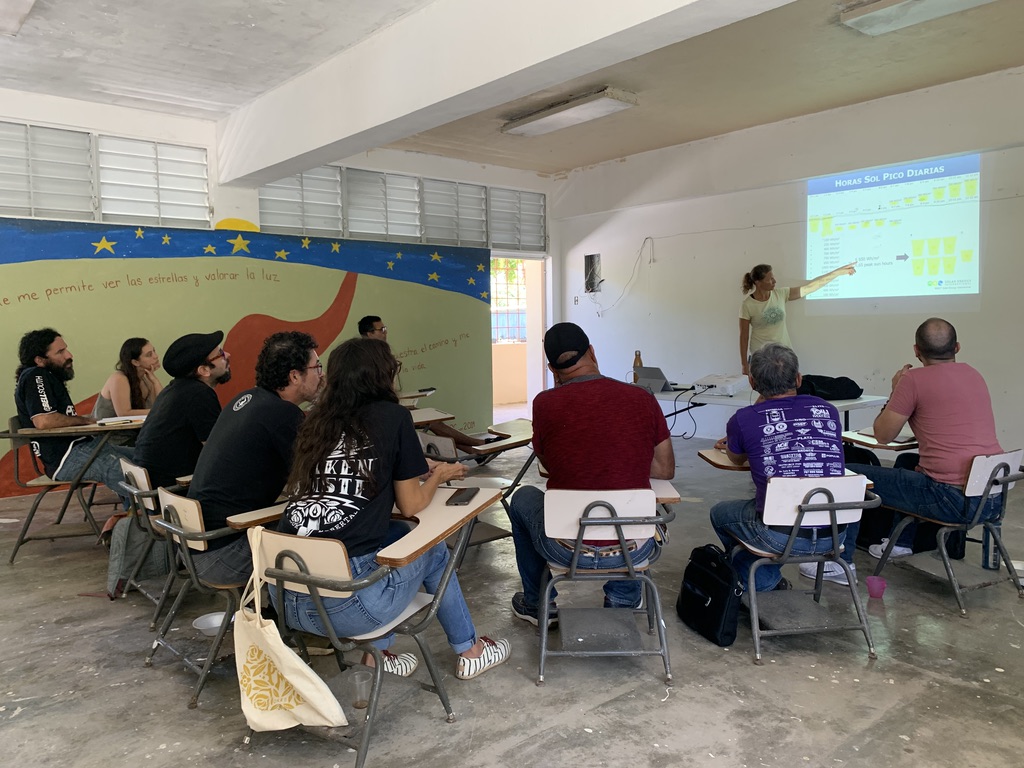 What was the feedback of the students?
We had about 10 to 14 students across the two days, so it was a small group, which was really helpful. We were pleasantly surprised with the reviews on the follow-up session we had on Sunday night. It is so much content to take 203, and for people that have very limited engagement with solar battery systems in the past, to try to condense all that, it was a pretty big lift. The students said that they were happy with both the amount of content and the hands-on pieces. We did one day of mostly lecture and one day of hands on, they said they were really happy with the hands on, and said presentations were really helpful. My favorite quote was from a community worker in Lares, that came for the training in Las Marias, he said that it was the best solar workshop he has ever attended so far.
While there's a lot to improve on, I was really happy with how it turned out. We were able to get the system up, we were able to get the participant straightened out, and I think everyone left exhausted, but content.
Is Footprint Project planning to do another workshops like that on the future?
Yes, we are hoping to, and we definitely have a lot of requests now. The challenge is always time, money and energy. The students are requesting more training in their own communities because a couple came from different Centros de Apoyo Mutua in Lares, El Rincon, Utuado, so they are requesting training in those areas, in a similar type of wrapped, accessible hands on training. We're trying to replicate that kind of training, we just need to put the pieces together.
Is there anything else you want to add?
I want to thank all the partners that were involved: Solar Energy International (SEI), Bosque Modelo, Mutual Aid Disaster Relief, Sail Relief Team, Rock Spring UCC. And the partners that donated/discounted equipment: Sol-Ark, SimpliPhi, Sunnova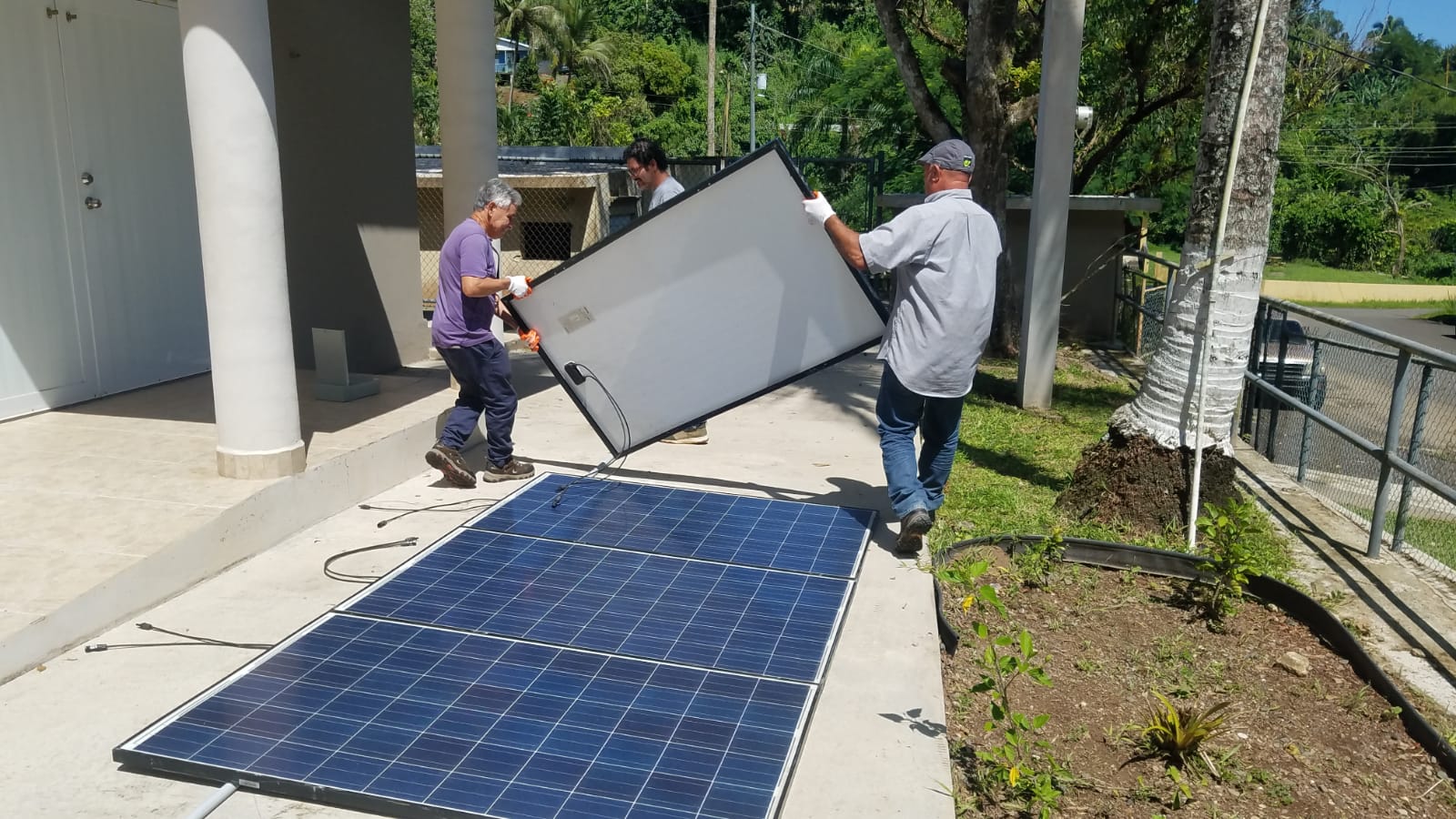 Thank you Will for your time. We certainly hope to continue supporting Footprint Project efforts on the island, as they continue to empower more and more people with SEI solar education.
Check footprintproject.org to learn how to collaborate or volunteer for their projects.