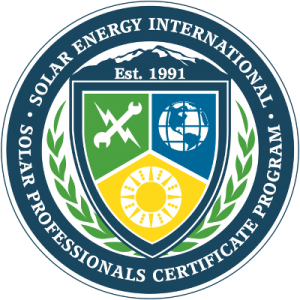 BECOME A SOLAR PRO
Industry-leading education to meet your solar aspirations
The SEI Solar Professionals Certificate Program (SPCP) is a selective admissions program to help ensure the success of our students and provide a quality workforce for the solar industry. To determine a candidate's likelihood of program completion, alignment of career goals, and overall fit for this professional training program, we require a certificate program application to be completed by every student candidate. Multiple Certificates can be earned by adding courses to your original Certificate Path. Para información en español haga clic aquí.
This certificate path covers a comprehensive spectrum of grid-direct residential and commercial photovoltaic design and installation applications.
Through this certificate program you will be trained on the technical application of solar photovoltaic battery-based systems to serve many different areas.
 A solid focus on the technical, economic, and financial aspects of the solar industry are covered in this program to prepare you for the fast paced solar industry.
This certificate program will take you through common battery-based photovoltaic technologies to apply renewable energy in some of the remotest areas of of the world.
This certificate program will expose you to other renewable energy technologies and is often a good "add-on" certificate path for a solar professional who has completed another certificate program.
This certificate program will expose you to SEI's best classroom curriculum and lab training experience for you and your instructional staff to put on a full solar training program at your school or training organization.
"SEI is to Solar as Harvard is to Law."
"SEI provided a very comprehensive yet understandable course for solar that will no doubt aid in my future endeavors in this industry."
"SEI was hands down the right choice for up-to-date, practical, and professional training in the world of photovoltaics. I will not be going elsewhere."
"Eight years after getting my business going after attending SEI, I can still report their instructors are the very best."
"Incredible experience, incredible training, incredible staff, incredible location."
"It's so good to have a high quality and reputable organization like SEI to get your education from. It's by the book and by the code, and that's the only way to go. Learning from SEI gives me credibility."
FREQUENTLY ASKED QUESTIONS
TUITION INCENTIVES AND PAYMENT PLAN PROGRAMS
Investing in your career and your future is one of the best uses of personal resources. With that said, a professional training program can be costly. Solar Energy International offers financial assistance for your certificate program through EITHER a tuition payment plan OR a tuition incentive.

ADDITIONAL PROGRAM DETAILS